Food
Give Blowfish, Fish Ribs, Cheese Curds and More the Buffalo Sauce Treatment
Buffalo sauce may just be a combination of hot sauce and butter, but the unbelievably simple condiment packs a ton of flavor and heat. Just in time for Super Bowl snack menus, chefs around the country are looking beyond traditional chicken wings and using the sauce on other ingredients. These Buffalo sauced fish ribs, cheese curds, cauliflower and other ingredients are a fun twist on the classic—if not even better.
At Murray's Cheese Bar, Buffalo cheese curds (recipe) are a top-seller. The recipe, from the former director of food service Tia Keenan, features cheese curds rolled in panko and fried before they are tossed with Buffalo sauce. They're served with celery and a dipping sauce made with sour cream, mayonnaise, blue cheese, Worcestershire sauce, buttermilk and seasonings.
Douglas Keane's first experience with Buffalo wings was at Johnny's Big Red bar in upstate New York while working as a cook, and 27 years later, he's taken the classic bar snack to Two Birds/One Stone in St. Helena, Calif. Local chickens are brined for two days in housemade cabbage kimchi, kombu and salt water before being dredged in a blend of flours and starches. The coating sets for 20 minutes before the chickens are put in a pressure fryer, which steams them in their own juices. The chicken rests before going into a traditional fryer and then tossed in a gochujang-inspired Korean Buffalo sauce with kimchi. Kimchi and cooling pickled vegetables and fruits come on the side. "It's like my grown-up interpretation of Buffalo wings, but instead of guests downing a bunch of Rolling Rocks they tend to reach for one of our Champagnes," Keane says. "Cold refreshing bubbles nonetheless, but an evolution."
At Mercy in Minneapolis, the menu description tells diners to "not be scared" of the Buffalo pacu fish ribs. Executive Chef Mike Rakun became a fan of the sustainable species after a Florida-based fishmonger turned him onto them. "The texture was similar to a chicken wing, and a more accessible way to attract people would be to give them a familiar flavor," says Rakun, who tosses them in seasoned flour, deep-fries them and coats them in a kicky Buffalo hot sauce. They meaty ribs are served with celery leaves and stalks. "You could obviously do a chicken wing, but that isn't very exciting; however, these are just as tasty," he says.
Tim McKee hadn't served blowfish at Octo Fishbar in St. Paul, Minn. until his East Coast friends told him about a nontoxic species of northern pufferfish with especially meaty tails. "They are the only species that goes north of Florida and Georgia because of water temperature," says McKee, who sources them from waters between South Carolina and New York. "They also happen to be one of the few species of puffer that is safe to eat." The hefty, easy-to-eat tails reminded McKee of bar food-inspired chicken wings, and he decided to give them a Buffalo treatment by dusting them in cornstarch, frying them and tossing them in a Buffalo sauce made with local hot sauce, vinegar, butter and a little orange zest to cut the heat. The bar snack comes with nori ranch dressing, celery and julienned nori on top.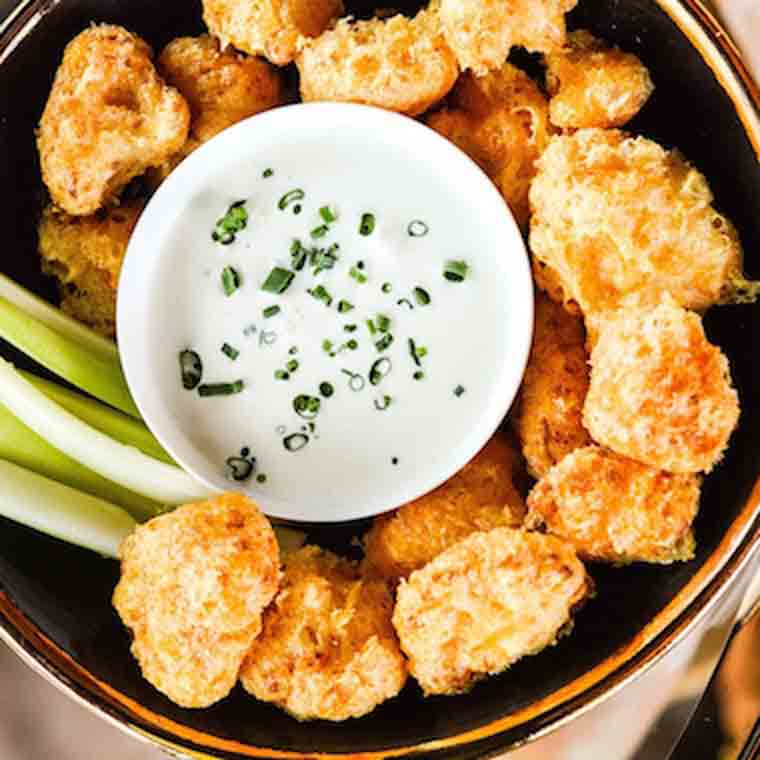 Devereaux, the rooftop bar at Chicago's Viceroy Hotel features food from 2015 Chef to Watch Lee Wolen, and the menu skews toward elevated bar snacks, like oysters with yuzu kosho, beet tartare with goat Gouda and vegetable crudites. Wolen's Buffalo dish—Buffalo tempura cauliflower—is a standout vegetarian dish on the menu.
"We blanch florets of cauliflower and soak them overnight in Buffalo sauce," Wolen says. "We then tempura it and fry it to order, and serve with a yogurt buttermilk blue cheese sauce on the side."
Want more ideas? Try these recipes for Buffalo-fried calamari, Buffalo-style oyster mushrooms, Buffalo quail with celery root and blue cheese and Buffalo fried pickled okra.