Food
The Best Fall and Winter Cookbooks for Chefs
Cookbooks written to appeal to chefs have never been stronger, if this fall's batch of releases is any indication. Here is a preview of the best selections to add to your shelves.
While some people might respond to the news that their restaurant's building would be knocked down to make way for luxury condos with despair, Wylie Dufresne instead found a project: documenting his kitchen team's trials, failures, and discoveries so he could share them with chefs elsewhere long after the restaurant closed. From deep-fried mayo to noodles made of shrimp to meringue ice cream 'marshmallows' skewered with beer-flavored 'sticks', the recipes make the resulting book feel open-hearted and even optimistic, excited about teaching others the methods used at a restaurant that was unlike any other. Out October 17.
If wd~50 manages to feel upbeat even though the restaurant is gone; Moto can't help but have a dark shadow over every page. The restaurant's wildly experimental chef, Homaro Cantu, committed suicide in his brewery-in-progress-cum-laboratory during the revision stages of this book, which begins with his years as a homeless child, living in shelters or out of a car with his sister and drug-addicted mother. As challenging both emotionally and intellectually as Moto is, it's fascinating, too, to dive into Cantu's imagination, where food can be cooked in a tiny aerogel box that stays cool on the exterior, and a menu is turned into a giant tortilla chip. While some of these projects require truly specialized equipment, not all of them are out of reach for those who work in modern restaurant kitchens: You, too, can char wood chips to include in a sous vide bag with pork belly, and carbonate orange wedges in a whipped cream canister. And perhaps that will be a tribute to Cantu. Out November 7.
This new tome from Karen Page, author of The Flavor Bible, aims to spark chefs' creativity. Page gathers insights both philosophical and practical from famed chefs: Kyle Connaughton of Sonoma's Single Thread, for example, muses on the differing role of creativity in cooking in Japan and the US, while Tal Ronnen and Scot Jones of Crossroads in L.A. discuss the nuts-and-bolts development of their vegan 'seafood' tower. Page points out the patterns in how great dishes come about, encouraging readers to recognize the pressures and accidents that often result in something wonderful, as well as the self-reflection and experimentation required to get there. While there may be more feel-good inspirational quotes than you need, Page also offers concrete tools for improvisation, such as charts of the average pH level and sugar percentage of various ingredients that might be good for swapping and handy lists of foods by color. Out October 31.
The folks waiting in line at this San Francisco spot probably wouldn't say they're in it for the restaurant's larder, but they're wrong, of course. The bold flavors layered on each plate at State Bird have their foundations in Brioza's dashi amped up with rosemary and ginger, his smoked cured egg yolks, his Meyer-lemon-scented variation on yuzu kosho, and his dehydrated sauerkraut powder, among other treasures whose secrets are found in this book. The sweet larder is similarly impressive and flexible, stocked with a compote made with dried pears and tart verjus, another made with a mixture of cooked and raw blueberries, and a crunchy two-chocolate bark topping that brings together feuilletine and toasted sesame seeds. Even if you don't replicate the dishes as described in full, there's a fresh idea worth using on every page. Out October 24.
Paul Kahan has mentored an impressive coterie of chefs in Chicago, and with this fantastic book, you merrily can join their ranks. You may soon find yourself grilling your cucumbers, making mayo from hazelnut oil, wrapping cured pork chops in hay, and dredging shucked clams and squeaky cheese curds in crushed salt-and-vinegar chips before frying. And those are good things, indeed.
Cheers to the Publican
is especially gracious, making a point of giving credit to the colleagues and friends who inspired each dish and thanking farmers and other purveyors with thoughtful essays scattered throughout the book.
Out now.
When Jonathan Gold reviewed Wes Avila's mobile Los Angeles taco operation, he urged readers to "treat Guerrilla as a kind of tasting-menu restaurant whose dishes happen to be composed on tortillas instead of on fancy plates." And you shouldn't think of this book as a standard treatise on classic tacos (even if the publisher claims it's a "definitive" guide on the back cover). Part memoir, part recipe book, this volume traces the story of a teamster turned fine dining cook turned taco chef, offering up his recipes for tacos laden with roasted pumpkin, mezcal-plumped raisins, and Dijon-pear vinaigrette, and for tostadas topped with live uni, raw tuna, and a cashew-enriched salsa. There are tacos filled with mascarpone-and-queso-fresco stuffed squash blossoms, others with cauliflower and dates, and still more crowned with crispy fried headcheese and lentils. Your tortillas are waiting. Out October 10.
You probably don't need to learn basic technique from Kristen Kish. But in this book, the Top Chef winner—who cooked under Barbara Lynch in Boston—doesn't dwell long on what she calls 'the 101s'. Kish pairs soft, delicate flavors with more strident ones, broiling braised endive with an 'nduja topping, and melting funky Camembert into chicken stock for saucing corn-stuffed cappellacci. In a clever take on mozzarella sticks, she rolls creamy burrata in crunchy kataifi. This food is elegant, but not staid. Out October 31.
It's hard to turn the pages of this book without the cravings hitting you. You can't help but covet Mistry's fresh potato chips sprinkled with tangy, fragrant chaat masala. You want her yogurt-enriched coconut chutney with cilantro and curry leaves, the battered and fried sweet Jimmy Nardello peppers, the fiery Vindaloo wings. Her take on mango lassi cuts the sweetness of the fruit with toasted cumin and quite a bit of salt (no wonder she recommends making a big pitcher). Out October 31.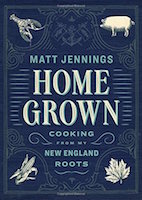 This homey cookbook from the chef of Boston's Townsman is filled with little touches that'll have you reconsidering New England classics. Perhaps clam chowder would be better with the addition of grilled squid? And maybe kidney beans should sip Moxie soda as they bake. Plain grilled or roasted oysters are fine, but aren't they worthy of a Parmigiano-rind infused zabaglione? More importantly, though, this book is a reminder to mine your own heritage and your own memories when crafting a dish or planning a menu, wherever you are. Out October 17.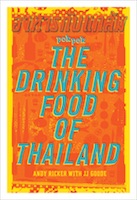 If you've traveled (and tied one on) in Thailand, this book of drinking snacks will bring you vividly back. If you've never been, these pages offer a worthy armchair journey; Pok Pok chef Andy Ricker shares not only recipes but also memories from the rowdy nightclubs and karaoke joints, ramshackle bars and curbside watering holes where he found his favorite version of each dish. To go with the local hard stuff (or beer, if you're fancy), there's a lot of offal, a lot of shrimp paste, and a whole lot of fiery chiles. To revive you the next morning, Ricker offers a creamy jasmine rice porridge with ginger and a soft-poached egg. You'll be grateful for it. Out October 31.
Modernist Bread by Nathan Myhrvold and Francisco Migoya
OK, this 2,642-page stunner isn't exactly an impulse purchase. But it's a once-in-a-lifetime game-changer for anyone interested in how—and why—bread works. Over five volumes, Nathan Myhrvold, Francisco Migoya, and their team put the lore and tradition of breadmaking to the test (seriously: they spent 44,500 hours testing recipes and running experiments). Taking no folk wisdom for granted, they offer innovative techniques to improve loaves of all sorts (plus bagels, pizza, and more.) While the book gets deep into the details of microbiology and the physics of heat transfer, its tone is approachable and entertaining. And don't assume that this crew's only strong point is the science: the first hundred pages or so, which trace bread's history through the ages, stand alone as a truly fascinating work. Out November 7.